Page last updated on: Thursday, 21 November, 2019.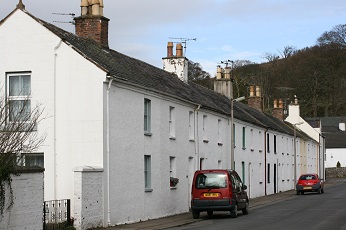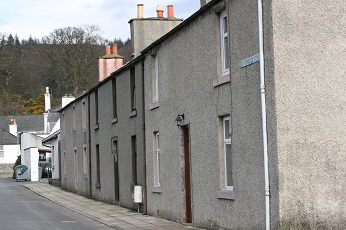 Birtwhistle Street from the west. North side on the left; south side on the right.

Birtwhistle Street runs from Old Ford Lane to Castramont Road. The houses are built of Gatehouse brick but are more like mill town buildings rather than being typical Galloway houses. Together with Swan Street and Rosebery Terrace, which are continuations of Birtwhistle Street, they are the only old terraced houses in the town.
The original contract for what became Birtwhistle Street was agreed in 1785 between James Murray of Broughton and 3 members of the Birtwhistle family, namely, John Birtwhistle of Skipton and his sons Reverend Thomas Birtwhistle of Skirbeck and William Birtwhistle of Balmae. The land was to be used to build workers homes for the cotton mill employees - 8 on the north side of the street and 9 to the south. There followed a process of sale and re-sale of property belonging to the Birtwhistles and the Murrays including part shares. These transfers all seemed to refer to 8 properties on the north of Birtwhistle Street and 9 on the south. We do not know how the Street ended up with 11 properties on each side.
Some of the cotton thread produced in the mills was woven into cloth by local workers in their homes and quite a number of these weavers lived in Birtwhistle Street.
Some locals believe that at one time a single shaft ran through all the attics of the north side of the street to power weaving machines in the houses using a system of pulleys. We have found no documentary evidence of this but we do know that until fairly recently the attics on the north side had no dividing walls. It has been suggested that the shaft would be driven by water power, but Birtwhistle Street is some distance from the lade system which was used as the source of water power in other parts of Gatehouse.
Could the shaft have been steam-driven and might it have only served some of the houses ?
In the 1851 Girthon census there are more than 20 people living in Birtwhistle Street who were listed as weavers. Most were Hand Loom Weavers (HLW) but some say they are Steam Loom Weavers. It is not known if any of the Steam Loom Weavers, also referred to as Power Loom Weavers (PLW), worked at home. It is more likely that they worked in one of the mill buildings where steam could be more easily produced. But might some of these steam loom weavers have used a common spindle through the terrace of Birtwhistle St.to drive their machines if they worked from home ?
Most buildings housed more than one family unit, we believe that up to 4 families might have shared a single building.
By the mid-20th century there was a terrace of 11 houses on the north side between East View and West View, a total of 13 properties. The terraced houses were given odd numers from 1 to 21, but no.1 has since been integrated with East View which is strictly-speaking on Castramont Road.
By the mid 19th century we believe that on the south side there were 11 terraced houses numbered 2 to 22. It is likely that nos.2 & 4 were demolished when Woodlyn was built on Castramont Road, and 6 to 16 were converted into stores and garages for Woodlyn. When Woodlyn was later used as a nursing home we believe nos.6 to 16 Birtwhistle Street were demolished to make way for the Woodlyn car park and the bungalows which now form Birtwhistle Gardens.
For many years all houses on the north side were under single ownership. Ownership did change, but such changes involved all the property on the north side. Lack of conveyancing activity for individual properties makes it difficult to be sure about who lived in each house. Similarly the property on the south side remained predominantly under single ownership.
Click this link to download a file below which describes ownership prior to 1947, before which all property on the north side was under single ownership, as was also the case for the south side property. Single-ownership.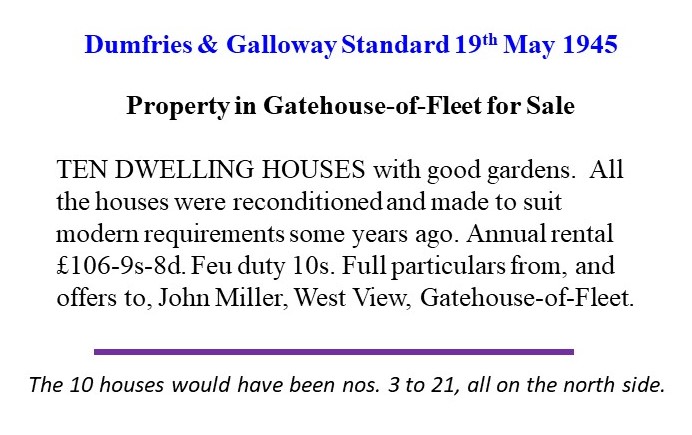 Birtwhistle Street houses frequently had multiple-family occupancy, plus it is not always clear at which house a census enumerator started recording the necessary details. Also there is little evidence of families being in the same house for more than one census. As such it seems meaningless for us to try to guess who lived in which house. We therefore decided to simply list the occupants of Birtwhistle Street as they are given in each of the first 4 censuses, and these are as follows :-
We have been given a copy of a "Rent Roll" for what seems like the north side of Birtwhistle Street for 1853-54.
This lists the head of each family and gives a building number in which that family live. The names are very similar to those in the above 1851 census. Do bear in mind that in this case these numbers are the building numbers as you go from east to west along the north side of Birtwhistle Street - they are not references to current house numbers.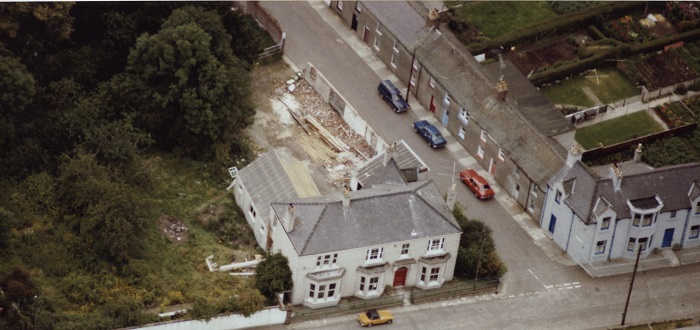 This aerial photo of the East end of Birtwhistle Street was taken in 1978 at a time when Woodlyn was being developed as an Abbeyfield Home. There are clear signs of final demolition of property on the south side of Birtwhistle Street.
Here is a brief summary of how Birtwhistle Street developed by referencing old maps of the area.
From the 1881 census onwards there is generally enough evidence of families being in the same property for more than one census that we can derive files for who lived in each house.. These are viewable by downloading the following .pdf files.
North Side
South Side