Page last updated on: Monday, 11 January, 2021.

This webpage is partitioned into a number of sections :-
1.
2. Cardoness
3. Cardoness
4. The Chapel
5. The Pinnacle
6. The Holiday
---

There is an old story which tells that the laird of Cardoness had 9 daughters before his wife gave birth to a son and heir. In celebration they held a party on a frozen Blackloch. The ice melted enough to drown all but a single daughter, who later married a McCulloch, thereby transferring lairdship of Cardoness to the McCulloch family.
At this time the laird of Cardoness lived at the "Green Tower Motte" which had been situated on a flattened plot of land near the Fleet estuary on the other side of the A75 from Cardoness Castle. The McCullochs were reputably a violent family that stole property to maintain their wealth. In the 15th Century they abandoned the Green Tower Motte and built Cardoness Castle as their fortified .
A neighbouring family, the Gordons, had a centuries-old feud with the McCullochs, and somehow, in 1628 Cardoness Castle passed to the Gordon family, but violence, looting and killing by the McCullochs continued.
By about 1690, John Gordon, the last owner and occupier of Cardoness Castle, had died, whilst his widow and son were murdered by the McCullochs. This led to Cardoness Castle being abandoned.
John Gordon's daughter Elizabeth inherited the Cardoness estate. She married William Stewart, son of the Earl of Galloway, and they had an only daughter Nicholas.
In 1696 Nicholas Stewart (1680-1766) married William Maxwell (1663-1752), who was the only son of William Maxwell, minister of Minnigaff.
In 1702 Nicholas inherited the Barony of Cardoness and this passed to her husband, thus starting the "Maxwells of Cardoness". William & Nicholas Maxwell had 4 sons and 9 daughters.
….. ….. ….. ….. …..
The 1671 map drawn by James Tate shows a called Bardarroch which is probably on the same site as the current Cardoness . What is now a wooded area that forms part of the caravan and holiday was referred to as Bardarroch on this map.
In 1721 William Maxwell built a new 2-storey , probably on the same site as the previous Bardarroch . This may have been the first building to be called Cardoness . At about the same time he built a small chapel by the shore.
In 1752 the estate was inherited by John Maxwell I (c.1700-1754). John's wife Agnes acted as trustee for the estate whilst their 1st son John was away on Army duty and until their 2nd son David came of age to inherit in 1760.
In 1760 inheritance passed to David Maxwell II (c.17??-1825, 2nd son of John Maxwell I.
In 1768 David rebuilt the Chapel on the shore.
In 1770 David married his cousin Henrietta Maxwell.
In 1804 David Maxwell became the 1st Baronet of Cardoness.
In 1826 David's son David Maxwell III (1773-1860), inherited the estate and became 2nd Baronet of Cardoness.
In 1828 David Maxwell III extended Cardoness . This may well have been financed by proceeds from the Skyreburn Copper Mine.
In 1860 William Maxwell V (1809-1886 - a ) inherited Cardoness Estate as 3rd Baronet.
In 1874 William's eldest son David Maxwell (1842-1876) married Margaret Bateman. This William died 2 years later after which his wife set up a trust to open Anwoth Cottage .
In 1876 ? Cardoness passed to William Francis Maxwell (1844-1924), 2nd son of William Maxwell V.

In 1886 Sir William Francis Maxwell further extended Cardoness . He also married his sister-in-law Jessidora McCrae.

In 1915 Sir William's eldest son was killed at Gallipoli during WW1.

Click icons for enlargement.
In 1924 Sir William's daughter Dorothy Maxwell (1888-19??) inherited Cardoness. She had previously married Frederick Rainsford Hannay of Kirkdale (1878-1959). Following Sir William Maxwell's death Kirkdale & Cardoness Estates were combined.
In 1959 the wings of Cardoness were demolished so that the was reduced back to the size it had been in 1721.
Later in 1959 the Cardoness Estate (including Kirkdale) was inherited by their only son Ramsay Rainsford Hannay (1911-2004). Ramsay then turned parts of both Cardoness and Kirkdale Houses into flats and started the caravan at Cardoness.
In the early 1990s the Cardoness Holiday was transferred to Mark Hannay who, assisted by his wife Fiona, manages the estate. They live at Cardoness .
---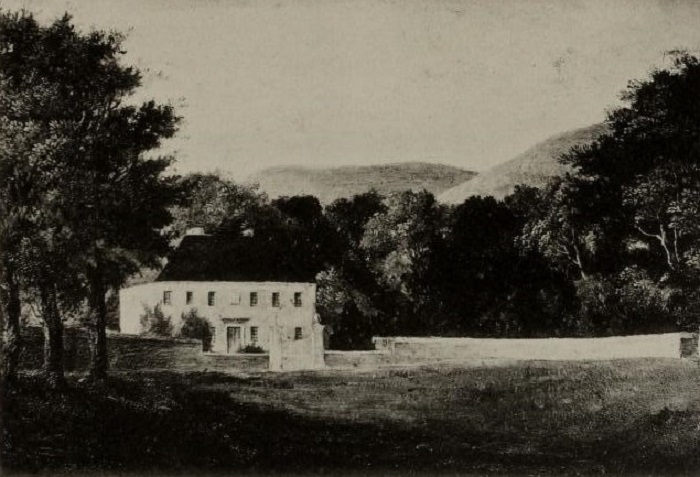 This was the original Cardoness . The view is taken from a painting by a Miss Maxwell.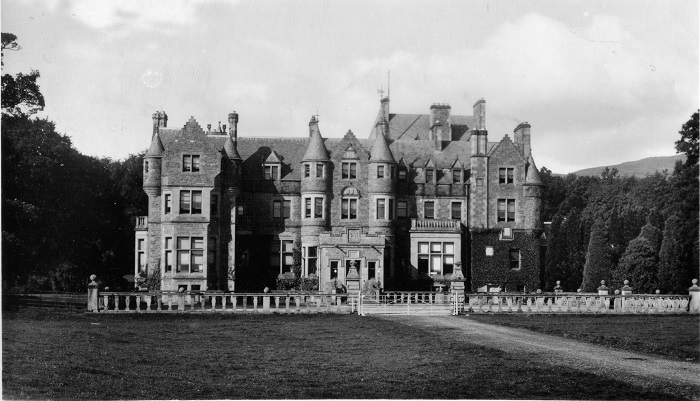 In this photo the lower floor at the extreme right appears to have vegetation covering a large section of wall.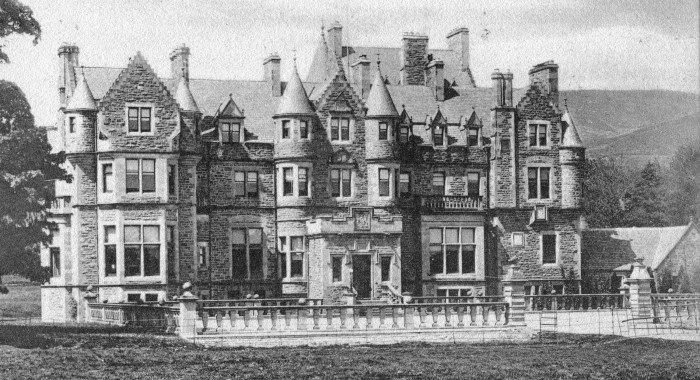 In this photo the foliage has been removed and there is a single-storey building to the right.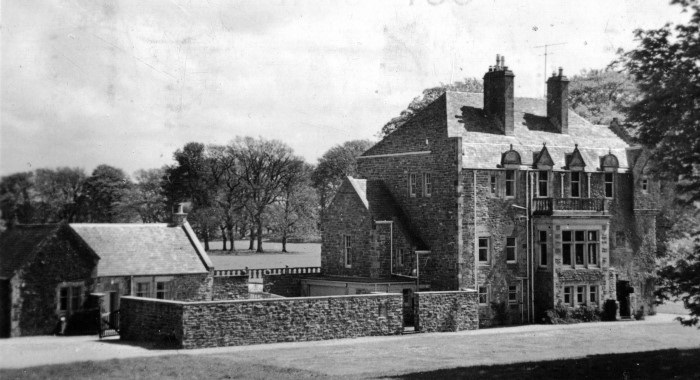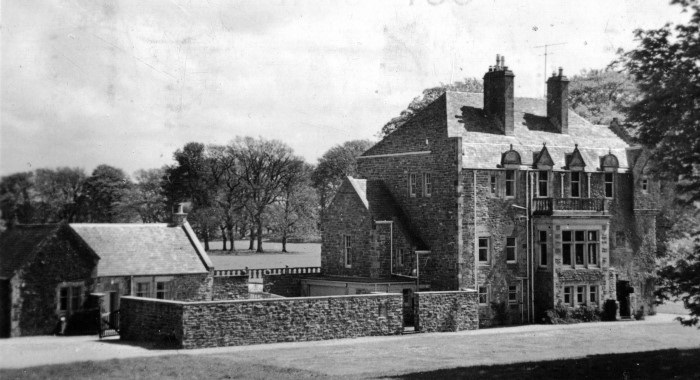 This photo is taken from the other side of the building (SW ?) and is taken after the wings were demolished in the 1960s.
| | |
| --- | --- |
| The Old Stables today | Stables Cottage today |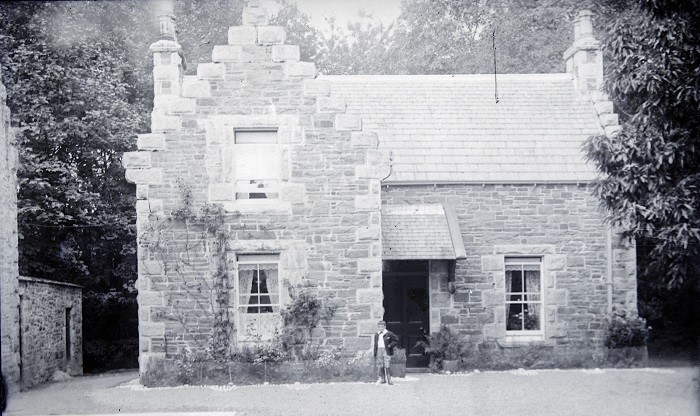 This photo of Stables Cottage was probably taken by William McMurray during the 1st quarter of the 20th century.
| | |
| --- | --- |
| | Sandy Knowes |
---

| | |
| --- | --- |
| An unusual visitor during the summer of 2018. | |
---

| | |
| --- | --- |
| | |
| | | |
| --- | --- | --- |
| | | |
| | |
| --- | --- |
| | |

The Chapel on Cardoness Shore
by R W Rainsford Hannay
The story of the Chapel really goes back to the beginning of the 18th century when Colonel William Maxwell, who had acquired the estate of Cardoness through his wife Nicholas Stewart, built a new residence on a part of the estate known as Bardarroch and called it Cardoness. The Castle had by that time been abandoned. Col. Maxwell was a man of some distinction. He had served with King William of Orange and was present at the Battle of The Boyne; in 1702 he was returned as member for the Stewarty in the last Scottish Parliament and called to be Governor of Glasgow during the 1715 Rebellion. All his life he had been a devout Christian and a member of the Presbyterian of Scotland and in the grounds of his new residence he built a small prayer to which he could retire and be at peace with the Almighty. His grandson, Sir David Maxwell, rebuilt the prayer in 1768 in perhaps a more appropri­ate place on a rock over­looking a small inlet off Fleet Bay.
When I was a child, this building had ceased to be used for religious purposes by my grand­parents, Sir William and Lady Jessica Maxwell. It was, however, still the custom to separate the sexes when bathing - the ladies in one sandy bay, the gentlemen in another, and there were a number of bays to choose from on the Cardoness shore. There was, though, no convenient place for the ladies to remove their garments, so the Chapel, as we now call it, was brought into use, and was known as the "Bathing ".
As a child I thought nothing of it but, later on in life, I began to query the situation. When I inherited the estate and started a holiday , my wife and I decided that it was about time the building reverted to its intended use. It needed quite a bit of repair, particularly to the roof, and the windows, some of which had had some stained glass in them. These were replaced by metal grills; the wooden shutters remaining. With the population of the holiday increasing, particularly in August, it seemed right that some sort of service be held for their benefit as well as for the local people. The Chapel being obviously too small for a full religious service, we decided to hold it out-of-doors. It provided a good base from which the clergy could conduct proceedings and, provided the tide was out, the congregation could assemble in the bay with picnics, children and dogs. We also felt that with such a diverse pop­ulation, the service should be available to all Christian denominations. Hence the ecumenical content.
It has now been held on a Sunday afternoon in August every year for 34 years. The Chapel is always open and is used regularly for private devotions.
The above is transcribed from a booklet called "Gatehouse of Fleet Millenium Events" (1999-2000)
---

| | |
| --- | --- |
| | |
DATED ABOUT 1830

On a report that Sir David Maxwell intended to raze the pillar, built by his father, these lines were written J.M,McC.

Oh! spare this barren rock to me
For a mark I stand to ships at
Long here I've braved the surging shock
Hence life rent me this -beat rock
Thy parents dear, wi' me have often stood
The storms to view on Solway's troubled flood.

From Cally's palace splendid and picturesque domain
I've viewed through branch formed vistas oft and oft again
From Ardwall's verdant glades and copse-clad rocky shore
Have been seen for four score years and more
Hence beauteous Cardoness you ne'er can be
Put to the blush by occupant like me.

Oh! heed not what the tasteless say
Who urge that I deform Fleet Bay
A striking object I long have stood
To grace they charming neighbourhood
May blessings fall on thee and thine
Let this -beaten rock be mine.

Oh! leave me for a beacon standing
I may save many a bark from stranding
Thy sire me raised, but gave no feu

Still I trust I'm safe with you
May blessings fall on thee and thine
Let this -beaten rock be mine


above is the pillar which is called The Pinnacle.

to the left is a transcription of the plaque which is fixed to The Pinnacle
---

Here is a site plan of the holiday as it was in about 2015.
This aerial view shows the location of Cardoness in relation to Gatehouse.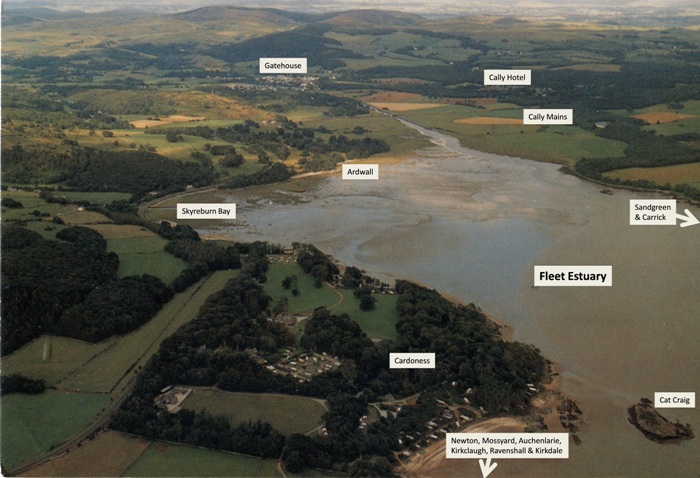 This is an old postcard which shows part of what is called the Garden Site.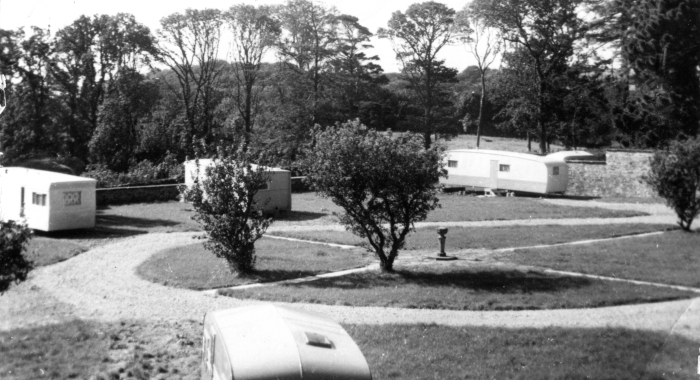 Click the icon alongside to see expanded view of plaque for W F Maxwell