James Alexander Adams
SRoH. Private James Alexander Adams. Home: Aikeyhill, Gatehouse.
Enlisted June 1918, 51st Highland Light Infantry.
Served in Army of Occupation.
1901 Anwoth Census, High Auchenlarie : James A.Adams (aged 11 mths, born Penninghame, Wigtownshire) with father Robert (ploughman) and mother Maggie J. + 1 sister and an aunt.
1911 Girthon Census, at Aikeyhill : James A.Adams (10, born Penninghame, Wigtownshire) with father Robert (crofter & roadman) and mother Margaret J. + 4 siblings.
Progeny of Joseph Gibson by Bill McKibben: James was born on 18th May 1900 at Newton Stewart. His parents were Robert Adams and Margaret Hughan. Although James was born at Newton Stewart it is likely that the family were living at Holecroft, the farm next to High Auchenlarie in the parish of Kirkmabreck.
James' parents met at Drumwall, Girthon and were married there in 1896. The family were at High Auchenlarie in 1901from where they moved on to Aikiehill where they lived for over 30 years.
Gatehouse link : Lived at Aikiehill for many years.
Samuel Adamson
SRoH. Lance-Corporal Samuel Adamson. Home: Gatehouse.
Enlisted 2nd September 1914, Cameron Highlanders. Served on Western Front.
Wounded 3 times & gassed once. Died of wounds 18th April 1918 at Bethune.
Awarded 1914-15 Star.
Anwoth & Girthon War Memorial, Gatehouse inscription : Sam Adamson L.Cpl. C.H.
Anwoth Church Memorial : L/Cpl. Samuel Adamson Camerons.
CWGC: S. Adamson, Lance Corporal S/10986 Queen's Own Cameron Highlanders 1st Battalion. Died 18/04/1918 (aged 21).
Buried Lapugnoy Military Cemetery, Pas de Calais, France. Grave VIII.D.26
Father given as Samuel Adamson of Craigmurie, Moniave.
Samuel was a native of Anwoth and worked as a groom to Sir William Maxwell of Cardoness before enlistment.
Soldiers Died in the Great War : Samuel was born in New Galloway, Kells.
He was living in Borgue when he enlisted.
Medal Index Card : Samuel Adamson S/10986 served in France with the Cameron Highlanders as a Private then as Lance-Corporal. He died of wounds on 18th April 1918.
Roll of Soldiers Effects: Pte. S/10986 1st Battalion. Cameron Highlanders. Died 18/04/1918 at 23 C.C.S. (Casualty Clearing Station). War Gratuity of£ 20-6-5 + £17 sent to his father Samuel Adamson.
1891 and 1901 Censuses : No Samuel Adamson around Gatehouse. The only Sam Adamson born in Kirkcudbrightshire in 1901 was living at Culzean, Ayrshire (4, born Kells) with parents Samuel & Agnes Adamson.
1911 Anwoth Census : Samuel does not appear in the 1911 Anwoth census but his parents Samuel and Agnes were nearby at Bush O'Bield with 9 other children. (according to CWGC Samuel Adamson was a groom working for Sir William Maxwell of Cardoness before he enlisted in 1914).
D & G Standard : 2nd November 1915 and 5th October 1916 give his parents as Samuel Adamson and Agnes Clark or Sloan. Samuel was wounded 3 times: firstly in 1915, again in 1916 and finally at Bethune in 1918 when he died.
Galloway News : 20th April 1923 : In Memoriam, Samuel Adamson was mortally wounded while attending a colleague.
The Glencairn Memorial Book by Alexander Hall & Anthony Murray-Flutter:
Lance Corporal Samuel Adamson (S/10986) 1st Battalion Cameron Highlanders. He was the second son of Samuel Adamson and Agnes Clerk, who had married at Crossmichael. He was born in Kells. His father was a shepherd and had worked on many farms: Holm Farm (Culzean, Ayrshire), Bush O' Bield (Anwoth), Borness (Borgue) and Craigmure (Moniave).
Samuel jnr. worked as a groom for Sir William Maxwell in Borgue.
He enlisted at Dumfries on 01/09/1914. He was wounded 3 times and also 'slightly gassed' once.
He was mortally wounded and is buried at Lapugnoy, Pas de Calais.
Gatehouse link : Worked for Sir William Maxwell of Cardoness.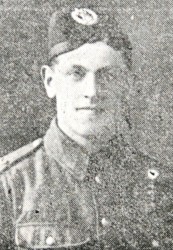 Jean Aird
SRoH : No mention in Stewartry Roll of Honour. We know that Jeannie worked in London during the war as an ambulance driver (from her grandson Brian McMurray).
Girthon Gravestone: Jean Miller Aird died on 30/09/1979, wife of William McMurray.
1901 Dunragit Census, at Dunragit Creamery Cottages, Wigtownshire : Jeanie M Aird (9, b. Old Luce) with father William (43, creamery worker), mother Agnes (39) + 3 sisters and a brother.
1911 Kirkmaiden Census: at Logan (House), Jeanie Aird (19, born Dunragit, Wigtownshire) was a scullery maid along with 10 other members of staff.
Birth : Jean Aird born c.1891 at Old Luce, Wigtownshire. Father William Aird, mother Agnes Withers (info ex Mary Cousins).
FreeBMD Marriage: Jeannie Aird married William McMurray Q3 1918 at Hammersmith, London.
William McMurray was a brother of the 5 McMurray brothers who served in the Great War. William had a curvature of the spine so would not have been allowed to serve in the army. He was a postman and was for many years the Registrar of Births, Marriages & Deaths for Gatehouse.
Gatehouse link: married William McMurray from Gatehouse and lived in Gatehouse for most of her married life.
Adam Stewart Airley
SRoH. Private Adam S. Airlie. Home : Ringford.
Enlisted November 1914, 2nd Canadian Contingent. Transferred to 4th Infantry Brigade.
Served in France and Belgium. Killed on 3rd January 1916.
Kirkcudbright War Memorial : Pte. Adam Airlie Canadians
Kirkcudbright St Cuthbert's Church Communion Table: Adam Airlie
Scottish War Memorial website
1891 Kirkcudbright Census : at Winnieliggate, Adam Stewart Airley (5, born Kirkcudbright) with grandparents Alexander Airley (roadman) and Mary + their 3 children.
1901 Kirkcudbright Census : Adam (15, born Tongland) was a farm labourer at Hartburn Farm near Kirkcudbright.
1901 Anwoth Census : Kirkbride Cothouse, John and Jeannie Wilson with Adam's half-brothers Alexander and Robert Wilson + half-sister Williamina Wilson. [John was Adam's step-father and Jeannie was Adam's mother]
Kirkcudbrightshire Advertiser 21st January 1916 : Pte. A.S. Airley of the Canadian Contingent, news of whose death in Belgium on 3rd January, has reached his relatives, was the son of Mrs Wilson, Bombie, and the grandson of Mr A. Airley, Whinnieliggate. He was 29 years of age. The officer commanding the battalion, in a letter conveying the sympathy of himself and Private Airley's comrades, writes, under the date 4th January:-
"It is with great regret and sympathy I have to inform you of the death of Private A.S. Airley, which occurred yesterday morning about 8am. At the time he was fixing a sniper hole near the top of the parapet when a bullet came through, catching him on the cheek and entering his brain. He died immediately. He was buried this morning in a little cemetery about a mile in rear of the trenches. A chaplain conducted the service and a great number of his comrades were in attendance to pay their last respects. Myself, the Officers, N.C.Os and men of the company deeply sympathise with you. We have lost one of our best comrades, one beloved by all. He had been with me from the time he joined and not once can I recall finding it necessary to reprove him. The night before his death he had been with me in one of the bays for a considerable while, waiting to carry messages I might want to send. I can only hope that the loss you sustain will be tempered by the fact that he died doing his duty."
Kirkcudbrightshire Advertiser 12th January 1917, In memoriam: Private Adam S. Airlie, Canadians. Killed 3rd January 1916. From mother Mrs John Wilson, Chapelton, Borgue.
We Will remember Them. Kirkcudbright's Sons 1914 - 1918 by Ian Devlin.
Private Adam Airlie was born in Ringford in 1885. His parents were James Airley and Jane Stewart. His father died in 1886 and his mother later married John Wilson.
Adam was one of 7 children. One of his brothers Robert Alfred Wilson died at Ypres on 03/10/1918. Adam emigrated to Ontario. He enlisted in the [19th] Battalion Canadian Infantry in November 1914. He sailed for Europe in the summer of 1915 and after training in Kent he was sent to France in September 1915.
A letter sent home told his parents that he had died on 03/01/1916. He had been shot in the face and died immediately. He was buried to the rear of the trenches.
Ken Morrison (Scottish Military Research Group) : Adam was born at Ringford – Parents James Airley and Jane Stewart. Jane later married John Wilson and lived at Skyreburn, Gatehouse of Fleet. Adam had two half brothers, Alexander and Robert Wilson, who both died during the war and are named on the Borgue War Memorial.
Adam emigrated to Canada and enlisted in the 19th Battalion Canadian Infantry in 1914.
Killed in action 03/01/1916 and buried Ridge Wood Military Cemetery, Ypres, Belgium.
Gatehouse link : Mother and step-father lived at Skyreburn. Adam was probably there also.
Charles Armstrong
SRoH. No details. A fellow researcher had researched the Kirkmabreck soldiers who died in WW1. He knew that Charles' mother was Elizabeth and that she had lived at Orchar Farm, Girthon.
Kirkmabreck War Memorial, Creetown : Armstrong, Charles Pte. Australians.
National Archives of Australia : Private 1511 2nd Battalion Australian Infantry.
Charles was born and educated in Creetown. He served with the local volunteers, the Galloway Rifles, for 13 years and for a year with the Territorial 5th KOSB before emigrating to Australia. He enlisted in November 1914 in Liverpool, NSW and sailed from Sydney in February 1915.
CWGC : Missing in Action – 25 April 1915, aged 37.
Commemorated on Lone Pine Memorial, Gallipoli, Turkey.
Australian Army records: Enlisted 30th November 1914, aged 26 years 3 mths, born Creetown, Scotland. He was a labourer. next of kin - Mrs Armstrong Orcharton, Garlieston. (Address later changed to Orchar, New Galloway) Had 3 years previous service with 5th KOSB (Territorials). He was 5' 4'', had a dark complexion, brown eyes, dark hair and was a Presbyterian.
He subscribed 2nd December 1914 at Liverpool, New South Wales with 2nd Battalion AIF (Australian Imperial Force) as Private 1511. He embarked on the HMAT (His Majesty's Australian Transport)AL9 Seang Choon at Sydney.
He was killed in action 24/04/1915 in Gallipoli.
A letter marked 11th July 1915, reporting his death, was sent to his mother at Orcharton, Garlieston and returned as 'Gone Away'. The news later reached her at Orchar, (Girthon). She wrote asking for his personal effects to be returned to her but a letter sent to her said 'It is likely his body was never recovered and any personal effects he had with him at the time of death would have disappeared also.'
After his mother's death in 1917, his half sister Bessie Gillespie, Orchar, New Galloway was marked as next of kin and nearest living relative. It was not until a letter 7th January 1918 that there was an 'official confirmation' of his death.
1891 Kirkmabreck Census : at Blairs Croft, 12-yr old Charles was a boarder living with James (25) and Elizabeth (20) Gillespie + their daughter & son. It appears that Elizabeth was Charles' older sister.
1901 Kirkmabreck Census : at Cambret, 22-yr old Charles was a boarder living with Margaret McGarva (42) and her family.
GRoS birth : Charles born 1878 at Blairs Croft, Kirkmabreck, illegitimate son of Elizabeth Armstrong.
Charles' mother Elizabeth and his sister Bessie Gillespie (wife of James) both lived at Orchar Farm (in Girthon) near New Galloway. After his mother's death in 1917, Bessie was nominated as his next of kin.
Gatehouse link : Mother and sister lived at Orchar Farm in Girthon.
Key to Sources
Roll of Honour
War Memorials
Gravestones
Commonwealth War Graves
Army Records
Census Records
Newspapers
Other Sources