Miss Gatehouse (1954 to 1999)
Page last updated on: Tuesday, 17 October, 2017..
The following notice appeared in the Galloway News on 11th June 1949.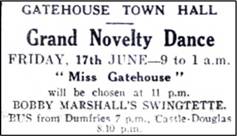 We do not know whether the position of Miss Gatehouse existed before 1949, but the following reunion was organised to celebrate 50 years of Miss Gatehouse.
The earliest recorded recipient was in 1954

Below are individual winners of Miss Gatehouse in the 20th Century.
Many of the pictures come from newspapers. If you have better copies then please contact us and we will be pleased to update as necessary.
| | |
| --- | --- |
| 1954 Sybil McKenzie | 1955 Jean Gilmour |
| 1956 Dorothy Harkness | 1957 Irene Bennett |
| 1958 Margaret Sloan | 1959 Esther Gilmour |
| 1960 Nessa Campbell | 1961 Roberta Moffat |
| 1962 Barbara Sinclair | 1963 Jacqueline McKenzie |
| 1964 Jean Cluett | 1965 Roberta McKie |
| 1966 Eileen Campbell | 1967 Margaret Hunter |
| 1968 Anne Milligan | 1969 Isobell McCleary |
| 1970 Audrey Patterson | 1971 Julia Kean |
| 1972 Jan Telfer | 1973 Elaine Milligan |
| 1974 Olivia Mackay | 1975 Betty Taylor |
| 1976 Margaret McCarlie | 1977 Corinne Harper |
| 1978 Yvonne McLeod | 1979 Caroline Cochrane |
| 1980 Kerry McCulloch | 1981 Shirley McClymont |
| 1982 no gala | 1983 no gala |
| 1984 Julia McIntyre | 1985 Elaine McClymont |
| 1986 Dawn Thompson | 1987 Tara Wadsworth |
| 1988 Jill Girgan | 1989 Denise Coltart |
| 1990 Gayle Macnamara | 1991 Kym Telfer |
| 1992 Mandy Chambers | 1993 Helen Watson |
| 1994 Veronica Kelly | 1995 Nichola Frame |
| 1996 Hollie McNicol | 1997 Andrea McKnight |
| 1998 Katie McCulloch | 1999 Daniella McCreath |