Page last updated on: Sunday, 6 August, 2017.
Will you help us to save the Rutherford Monument ?
The Rutherford monument at Gatehouse of Fleet is in urgent need of repair. The top of the monument has become dislodged and if it is not restored soon it will collapse. Erected by public subscription in 1842 the Rutherford monument commemorates the life and work of Samuel Rutherford the leading Scottish divine who was Minister at Anwoth between 1627 and 1639 before going on to become Professor of Divinity at St Andrews University and later Principal of St Mary's College at the University.
Rutherford's great work Lex Rex was an attack on absolute monarchy, demanding that rulers should be subject to the law. His work had a significant influence on the framers of the constitution of the United States of America.
More about this and the ability to contribute online is available on the Gatehouse Development Initiative's website at http://www.gatehouse-of-fleet.co.uk/

Here is a badge or clasp of some kind which we believe was used by a military group called The Gatehouse Volunteers.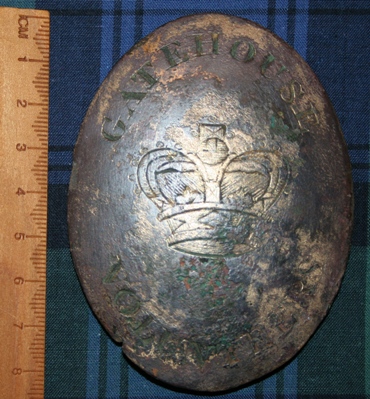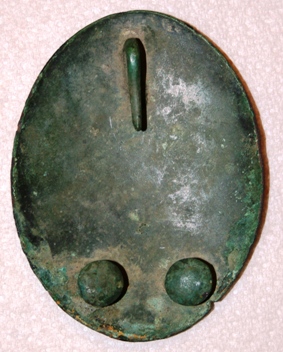 The Volunteers were formed in response to a royal request for Britain to be able to repel a possible invasion by France at around the turn of the 19th century.
If anyone can provide more information about The Gatehouse Volunteers or this recently found badge we would love to hear from you.
Here is a painting by John Faed.

John Faed was born and grew up in Gatehouse of Fleet in SW Scotland.
We do not know the title of the painting or the current whereabouts of the original. The above comes from a print which has been an heirloom of the descendants of the young lady with the child on her knee. She is Elizabeth McLellan and she sat for the artist in 1878 or 1879 when she was about 15 years old. We would very much welcome any advice about what the painting is called, the location of the original (i.e. museum or pivate collection), the location in which the painting is set, and any other relevant anecdotes associated with the painting.
added to website :: Saturday, 27 February, 2016.
---