Page last updated on: Saturday, 15 August, 2020.
---
World War Two - 75 Years On.
This page contains a collection of memories so that
year 2020 is remembered not only as the year of Coronavirus
but also as the 75th anniversary of the end of World War II.
WW2 started on September 1st 1939 when Germany invaded Poland.
The war ended in Europe on May 8th 1945 (VE Day) after Germany surrendered unconditionally.
All hostilities of war ended on August 15th 1945 (VJ Day) after Japan surrendered unconditionally.
Here is a downloadable .pdf file which lists the main events of the war. Chronology of WWII.
The evacuation of allied troops from Dunkirk took place in 1940, between May 26th June 3rd. British, French and Belgian troops were evacuated from the French coast, because they had been surrounded by advancing German troops.
The Battle of Britain was a large-scale attack on Great Britain by Nazi Germany's Luftwaffe. It has been described as the first major military campaign fought entirely by air forces. It is recorded as having lasted from August 8th to October 31st 1940, although there were heavy bombing raids on Coventry, Manchester, Liverpool, Clydebank, London and Hull during 1941.
D-Day was 6th June 1944 and was part of "Operation Overlord". This was the day the allies started the final push to end the war in Europe, beginning with a massive landing of men and machinery with considerable assistance from the Americans. This map shows the names used for the Normandy beaches.
Different countries joined the war at different times. The British forces were part of The Allies. The German support came from The Axis. Here is a list of those countries that aligned for either side. Axis v. Allies.
---
Those Commemorated on the
Anwoth & Girthon War Memorial

On the Anwoth & Girthon War Memorial there are 14 names
of soldiers who died during World War II.

Click on a name below to see a brief summary of that soldier's details
Those named on Anwoth or Girthon Church Memorials but not on the Town War Memorial
In each of Girthon and Anwoth Churches there was a plaque to commemorate those from the parish who died in the war. It is not immediately obvious why, but there are 3 names on these plaques that do not appear on the Gatehouse War Memorial.
Those who died but are not named on any local memorial
There are some who died, maybe away from Gatehouse, maybe after years of suffering from wartime illness or injury.
---
Conscription
The Military Training Act (1939) came into force in May 1939. Existing conscription laws were antiquated and the processes involved resulted in slow mobilisation of armed forces and the new act was an effort to speed up the process.
The Act applied specifically to 20 and 21 year-olds, who were "called-up" for 6 months full-time military training before being transferred to "The Reserve", where they returned to work and awaited for "call-up" to combat duties.
The above Act was superseded by the National Service (Armed Forces) Act 1939, which came into force on 3rd September 1939, the day war was declared against Germany. This meant that, with a few exceptions, all men aged 18 to 41 had to register for National Service. Exceptions included those in so-called reserved occupations and those who were not medically fit for war duty.
Territorial and non-regular Air Force personnel were also called-up in May 1939 to reinforce aircraft defence, and ex servicemen aged 45 to 51 were invited to enlist in the Territorial Army Reserve to be used as Home Defence. This would release regular troops for more active duties at the outset of war.
Conscription
Conscription greatly increased the numbers in the armed services during the first year of the war, but more were needed such that in December 1941 a second National Service Act was passed. All unmarried women or childless widows between the ages of 20 and 30 could be called up, and men up to age 60 could also be enlisted. The extra personnel were needed to fill police and civilian defence posts or auxiliary units of the armed forces.
Conscientious Objectors
Conscientious Objectors (people who objected to war on moral or religious grounds) had to appear before a tribunal to argue why they refused to join up. Some were forced to enlist for active service, others were given non-combatant reserved occupations work, and others had to serve a prison sentence.
Sir Phillip Macdonell from Woodlyn in Gatehouse was a retired judge and headed one of these tribunals in Southport, Lancashire. He was not a healthy man and sadly died in 1940 whilst on duty.
---
Reserved Occupations
In 1938, in anticipation of war, a Schedule of Reserved Occupations was created. The aim was to exempt people with certain skills from being conscripted as soldiers. Reserved occupations included miners (Bevan Boys), dockers and railway men but those that most affected Gatehouse included:
Farming

In Britain's bid to be as self sufficient as possible with food supplies, increasing farm production was a priority. POW's and the Woman's Land Army also worked on farms, as did some school children during their holidays. Some conscientious objectors could also be assigned farm work.

Bobby Carson, from Conchieton Farm near Twynholm, remained at home working on the family farm. He was one of the youngest members of the Twynholm Home Guard.

Forestry

It was essential to keep the coal mines and other industries supplied with timber.

When Jim Grieve left school at 14 he became a firewood merchant working in Killiegowan Wood. He joined the T.A. and later enlisted with the 7th Battalion K.O.S.B. He was sent home from the army on occasions to help with timber operations around Gatehouse.
Merchant Seamen

The movement of goods into Britain was crucial.

Captain Hugh McMichael was born and brought up in Gatehouse, being the son of the local butcher.

During World War I he served with the Mercantile Marine Service and continued in the Merchant Navy after the war, working his way up through the ranks.

In 1939 his ship, the 'British Influence', was one of the first to be sunk by a German U-boat. He and his crew had a very lucky escape when the U-boat commander allowed an allied rescue ship to collect the crew before he sank the ship.
Construction

Arthur Hunter owned a joinery business in Gatehouse. When war broke out he applied to join the Royal Navy but was rejected due to partial deafness. He was drafted into Essential Services where his joinery skills could be useful. He had to close down his business in Gatehouse for the duration of the war. In 1940 he was posted to work in the Liverpool Docks, refitting ships to be used as troop carriers. Later in the war he was involved in building aerodromes around Scotland: Heathhall, Dumfries; Balado near Kinross; and on Benbecula and Orkney.

Dr Alastair Christie


Rev. Andrew Easton


Dr James Russell

Doctors and Nurses

The local doctor in Gatehouse was Alexander Craig, who lived at Roseville in Ann Street.

The Forces also needed medical staff and Dr Alastair Christie, GP in Gatehouse 1951 to 1965, had served as a Surgeon Lieutenant in the Royal Navy during the war.

Ministers

Ministers and priests came into the category of exceptions, but like doctors some were also needed in the Forces. In 1939 Rev. Andrew Easton, Minister of Girthon, joined up as a Chaplain to the Forces, and in particular to the 7th K.O.S.B., which many local lads had joined.

Teachers

School teachers were expected to go with their pupils if they were evacuated from the city. Hence teachers from Hillhead High School in Glasgow came to Cally House School.

Dr James Russell was one of them, teaching English. After the war he taught briefly at Castle Douglas High School before becoming headmaster of Gatehouse School from 1951 to 1963.

A few teachers from Glasgow were drafted into Gatehouse School to help cover the class sizes swelled by evacuees.
---
Service Records
Records of men and women who died as a result of participation in the war are available via the Commonwealth War Graves Commission and most are named on War Memorials.
There are some records of prisoners of war, but records of survivors of the war are, in general, not publicly available.
Therefore there is no access to a formal list of names or numbers of Gatehouse people who served in World War II.
At the Welcome Home Party in 1946, it was announced that about 194 men and women from the Gatehouse area had served in the armed forces during the war. About a hundred of these attended the Welcome Home Dinner.
Another source for the names of serving soldiers came at the end of the war when the Galloway News published 2 photographs of wartime babies. These were children born to serving soldiers.
Some survivors told their stories through family members, and some families preferred not to discuss wartime.
---
Military Professionals
Commandos
The Commandos were formed in June 1940 as a 'force that could carry out raids on German Occupied Europe'. Originally most of the men came from army units but eventually they were taken from all branches of the British Armed Forces.
The training was very physically demanding - cross country runs and assault courses.
In September 1943 the 47 Royal Marine Commandos came to Galloway to train. They constructed rope bridges over the River Fleet and trained at the cliffs of Ravenshall and at the Clints of Dromore.
They were billeted in various homes and in Gatehouse, the Frullani family, the MacInnes family and Mrs Ada Patterson at Annfield (now Whiteside) all had one or two commandos staying with them.
Leo McClymont (left) with pals Colvin Hope, Anthony Heron & Craig Shaw

Leo McClymont remembers that Mrs Paterson's man was so large that he broke the bed that he was given.

Ladies who took in soldiers as lodgers were paid between 25/- and 30/- a week. They used the soldiers ration books - and the commandos were allowed extra meat rations. Best of all for the youngsters - the commandos set up rope bridges and other equipment which the local lads sneaked onto for some fun in the evening.

David 'Sam' Gray remembers the commandos having mock battles along the High Street. One day he found a commando lying prone in the pend beside his house at 21 High Street, with his gun pointing across the street. Sam, aged about 5, lay down beside him thinking it was all a big game.

David "Sam" Gray
The Gatehouse Commandos used the old 'Gaithouse' building in Ann Street as their headquarters and would regularly march up and down Ann Street.
American Army
Although the U.S.A. had helped Britain with food and armament supplies in the early years of the war they had remained formally neutral. This changed when the Japanese air force attacked the American naval fleet at Pearl Harbour, Hawaii on 7th December 1941.
Once the American Army mobilised they crossed the Atlantic by boat. Many thousands landed in Northern Ireland to be transported to Britain and Europe. Several waves of these soldiers landed at Cairnryan, near Stranraer before making their way through Galloway in 1944.
For local children these were very exciting events.
Peggy Gillespie (née Kean) remembers the line of troops and equipment stretching from the Castle to the Cut and most striking of all were the number of black faces, somewhat of a rarity in Gatehouse.

Leo McClymont was impressed by the large powerfull motorbikes. Some of the men performed tricks on their bikes as they made their way up the High Street.

Juliano Frullani remembered

'One morning, a soldier on a motorbike stopped in front of me and said: "Jump on". He took me up to the War Memorial and down to Fleet Street and back to the corner again. I was a hero for one day.

The troops handed out sweets to the watching children.

David 'Sam' Gray remembered that a soldier gave him some chewing gum - known locally as 'chuddy' but from then on it was called 'gum'.

A canteen was set up for the American troops in the small building at the side of the Murray Arms which later became the public bar.

Juliano Frullani in 1942
Alix Wolffe (née Graham) lived in Creetown during WWII and her family owned a donkey-drawn cart. One day when Alix was 12 or 13, the family were out in the cart and as they reached the A75 they were surprised to find the road full of military equipment and long lines of American soldiers, many with black faces, a rare sight in those days. The soldiers were a cheery bunch, singing, laughing and telling jokes. They were also very noisy and the Graham's donkey took fright and bolted which was a rather scary experience.
---
Home Defence – Voluntary Service
A number of organisations were set up or re-mobilised to help defend the nation. Three which existed in the Gatehouse area were :-
Royal Observer Corps
This group was set up to assist the RAF with sighting of aircraft over Britain.
The local team were located at Castle Douglas but several men from Gatehouse were part of this team.
In 1943 The Royal Observer Corps - Gatehouse branch included
Chief Observer Tom McGaw
Observers John Rae and Allan McClelland
Leading Observer Bert McMurray
Civil Defence

The ARP (Air Raid Precautions) had been established in 1935, before the war.
In 1941 the ARP was re-designated as Civil Defence (CD) and this also included the Fire Service, Fire Guards (fire watchers), rescue and First Aid.

Gatehouse had a voluntary Civil Defence Corps.
Their role was to help with the management of air raid shelters and organise the fire service. A survey was carried out for suitable shelters in Gatehouse. Rosebank in Ann Street seems to have been the only suitable site but it was never used.

Commander Cochrane of Rusko was one of the instructors in the CDC

Anne Murchie from the Murray Arms (who married soldier Robert Nicol in 1942) drove an ambulance for the corps.

Click on the Civil Defence badge to see a photo of Gatehouse Civil Defence volunteers.
Fire Guard Service
In October 1941 a new order came from the Government, who had taken over Fire Services.
The Fire Guard Service was set up as part of the Civil Defence.
Each burgh had a Head Fire Guard and teams of 5 who were to look after groups of houses.
In December 1941 the Gatehouse Town Council reported that they had 85 volunteers willing to train as Fire Guards. They were to be equipped with buckets, stirrup pumps and sand to put out fires.
Training was given to the Fire Guards, sometimes with other towns taking part in exercises.
Galloway News : 26th September 1942 reported a tragic road accident which occurred between Newton and Laggan farms.
A car carrying 6 young Creetown folk, who were returning home from a training session with the Gatehouse Fire Guards, were involved in a collision with an army despatch motor cyclist. The car rolled down into a field trapping the occupants. Five escaped with minor injuries but Jane Barr McDowell, aged 18, was killed. The motorcyclist had severe leg injuries and both his legs had to be amputated.
Jane was the daughter of David and Marion McDowell, Harbour St, Creetown and she worked in the local Co-op store. She had three brothers and a sister serving in the Forces. Her brother William died in 1945 and is named on the Kirkmabreck War Memorial.
There was great concern in Gatehouse about suitable provision for tackling fires, especially after the classroom fire at Cally House School when other fire brigades had be called to assist. As late as 1944 the Town Council were still waiting for a suitable vehicle to tow the trailer pump.
Eventually a new fire tender was supplied and housed, with other equipment, in a building in Victoria Street, next to the Police Station.
Home Guard
In May 1940 Anthony Eden, the Prime Minister broadcast on the radio an appeal for
'men between the ages of 17 and 65 to enter into the Local Defence Volunteers'
By July 1940 1.5 million men had enrolled nationwide and the name changed to The Home Guard. The Home Guard were armed and ready to provide protection against enemy invasion..
The men registered to the Home Guard continued with their normal day-jobs and were unpaid for their defence work. At first they had no uniform and sometimes were equipped with their own guns but by the end of the war they were in uniform and were a well trained unit. Some of the older men like Duncan MacInnes and Tom Nicol had served as soldiers in the First World War.
The Gatehouse Home Guard set up defence posts to look out for an enemy invasion. The Local outlook post was on Galla Hill. Another was on the cliffs near Auchenlarie which Bob McClymont and Willie Worrall helped to man for the coastguards.

Milestones were removed, many being thrown into ditches. Most were recovered after the war, but some like the one outside Mile End Cottage on Woodside Terrace has never been found.

The Home Guard were never expected to be able to defeat a well trained German Army - but their tactics were designed to slow down the enemy if they did invade. The Home Guard had a shooting range at Disdow and they took part in shooting competitions with other local units. They were even taught simple German phrases in case they might be needed.

Click here to see a couple of photos of Gatehouse men who served in the Home Guard.

To the left is the Cardoness Castle milestone. 1 mile to Gatehouse,
17 to Newton Stewart, 50 to Portpatrick and 364 to London.
The Home Guard also dug trenches along the side of The Cut, beyond the Double Lodges, and also in the garden at Portville in Fleet Street to guard the River Fleet. A local girl fell into the trench at Portville and broke her arm !
A barricade was built at the Fleet Bridge - 2 structures about 6' high and 10' long topped with barbed wire. One on either side of the road at the Anwoth side of the bridge with a chicane between them.
The Home Guard also took on roles such as bomb disposal, watching for parachute drops and training in the use of anti-aircraft guns.
The Gatehouse Home Guard were based at the Drill Hall in Castramont Road. (the old Girthon school building). There is also believed to have been an ammunition store in a Nissan Hut, behind the Episcopal Church in Dromore Road.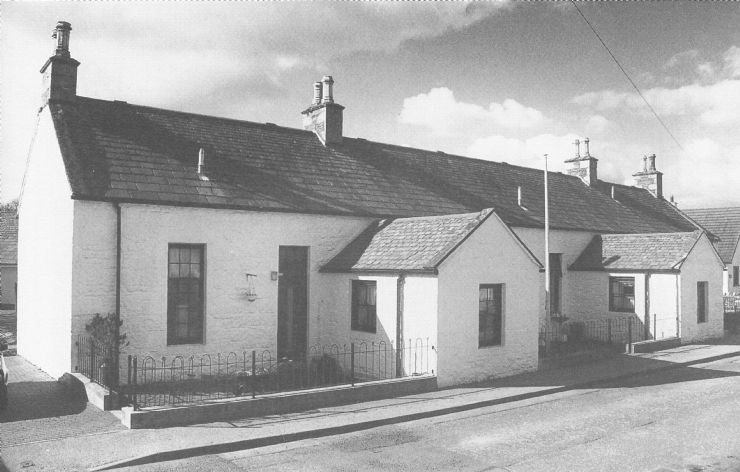 There were similar Home Guard units in Twynholm, Creetown and Kirkcudbright, and they would often hold practices together.
Older scouts known as Kings Scouts or Rover Scouts acted as messengers between the different Home Guard units. Leo McClymont was a Rover Scout towards the end of the war.
In April 1940 a large exercise was held involving many of the volunteer groups such as the ARP and Home Guard as well as ambulance and medical teams. Three 'bombs' had dropped in Gatehouse High Street including one damaging the Fleet Bridge and an 'incendiary bomb' at the Bobbin Mill, causing numerous casualties and much damage. It was reported in the Galloway News that the exercise was a great success. With so much ammunition and equipment around Gatehouse it was almost inevitable that there were some accidents. In 1942 Joseph Mellon received a hand injury when he picked up an unexploded grenade.
---
The Role of Women
Wartime Babies
Records of serving personnel in World War 2 are not publicly available. Unlike the First World War, newspapers did not report deaths or injuries, partly because of morale back home and partly because of the intelligence it could feed back to the enemy.
In 1945, after the war was over The Galloway News published 14 group photos of babies born during the war to serving military personnel. Two of these photos were of Gatehouse babies. This created one of the few sources of information about who went to war.
During WWI, women had proven their ability to carry out traditionally male-dominated work. After WWII started there was no question that women would take over roles that had been carried out by men.
Many women continued in tradition roles such as cooking, teaching and nursing, but large numbers were employed in all sorts of work from farming to factories and many housewives also took on voluntary roles.
Nurses
Jessie Sproat from Lennox Plunton was a nursing sister with Princess Mary's Royal Air Force Service. In November 1944, whilst serving in Italy she married Capt. Bowater in the British Church in Naples.
Nurse Mcleod was the District Nurse in Gatehouse in 1944. Her work load was increased enormously by the number of evacuees staying in the area. Miss Naeve and Mrs C. Crosbie (formerly Evelyn Tait who had been a nurse during WWI) helped out by running the clinics. Retired nurse Kate Hunter of Fleet Street also helped with nursing duties.
Women in the Forces
In the early stages of war many women voluntarily joined the armed forces but many more were needed which resulted in conscription being introduced in 1941.
Female branches of the armed forces were :
Army - ATS (Auxiliary Territorial Service). In 1949, after the war this service became the Woman's Royal Army Corps - WRAC.
Royal Navy - WRNS - Womens Royal Naval Service ("the Wrens")
Royal Air Force - WAAF - Womans Auxilliary Air Force ( "the Waffs")
SOE - Special Operations Executive - secret agents abroad and underground radio operators.
Many women in the forces carried out traditional roles such as cooks, clerks and telephonists but others took on jobs as mechanics, searchlight operators, anti-aircraft instrument operators and radar communicators. Most worked in Britain but some served abroad.

Winnie Farmer (right) was born at Barrhill Lodge in 1922 to John and Agnes Farmer. She joined the Fleet Air Arm, the air force section of the Royal Navy. She was a flight mechanic and worked on Wellington and Lancaster bombers at Silloth in Cumbria and Kinloss in Moray.
Her future husband Alexander McNally was a Wireless Operator in the Royal Navy, and they married in 1949.

Ethel Salmond served as an aircraftwoman 2nd class in the WAAF. She was working in Newcastle upon Tyne when she died in July 1944. Her father George Salmond was the headmaster at Fleetside School, Gatehouse between 1906 and 1920 before moving to Kirkmabreck School at Creetown.
Ethel was buried in Newcastle but is named on the Kirkmabreck War Memorial.
Women in Factories
Gatehouse had no factories but there were some nearby. At Tongland, silk was made for parachutes. ICI made ammunition at Powfoot and there were munitions depots at Eastriggs. Rena McClymont was sent to work in a munitions factory in Dalbeattie. Some locals were called up to work further afield.
One of the Cochrane sisters from Rusko was drafted to work at a munitions factory near Glasgow.
Rena's sister Mary Girgan worked in a steelworks in Glasgow when her husband Jimmy was posted to help the US army unload trucks and other vehicles from ships onto the dockside.
Nancy Hunter worked in a factory at Milnathort, Kinrosshire when her husband Arthur was posted to work at RAF Balado.
Nan Hunter, (Arthur's sister) a trained children's nurse, had changed jobs to work on some highly sensitive work in Watford, probably connected with the aircraft industry, when she was killed by a lorry in a road accident in 1942.
After the war some jobs reverted back to men. Kathy Cairns started work as a 15-year in the Bank of Scotland (in 1945) in Gatehouse but lost her job when men were again available.
Woman's Land Army
In 1939 Britain imported much of its food requirements: 80% of its fruit, 70% of cheese and sugar, 70% of its cereals and 50% of its meat. With much of this being transported across the Atlantic Ocean where many ships were torpedoed, food shortage became a real issue.

Although farming was a protected occupation, many younger men joined the forces so manpower was in short supply. Also more land was turned over to growing crops which needed a bigger workforce.

The Woman's Land Army (WLA) had originally been set up during World War I but was disbanded in 1918. It reformed in 1939, initially as a voluntary service, but from December 1941 women could be conscripted to work on the land.

By 1944 there were over 80,000 land girls. They were provided with a uniform - which proved to be neither very practical or warm and waterproof.

Many worked in groups but around Gatehouse it was more usual to have a single one on a farm. Extra farm help was sometimes given by prisoners of war who had been detained locally. Conscientious objectors were also required to provide help.

Land Girls were paid directly by the farmer - minimum wage 28/- per week with 14/- deducted for board and lodgings (Men were paid on average 38/-per week). They worked 48 hours a week in winter, 50 hours in summer. Initially there were no holidays but after the 'Land Girls Charter' was introduced in 1943 they were allowed 1week of holiday each year and given a pay increase.
Land Girls around Gatehouse
Mary Isobel 'Bel' Adams was born in 1918 and brought up at Aikiehill in the Fleet valley. She helped care for her older brother John who had been blinded in a childhood accident. Sadly John's twin James Adams had died in India just before the start of the war while serving with the KOSB.

Flora Barton was born in 1924 in Kirkgunzeon, 5 miles from Dumfries. She came to Gatehouse to work for the Veitch family at Low Creoch Farm. She remained in Gatehouse after the war marrying David Y. Veitch, the farmer's son.


Bel Adams

In December 1941 the Galloway news reported that there were 70 land girls working in the Stewartry. By 1943 this number had risen to 256.

There was a concern that many of the girls were lonely and suffered from homesickness so efforts were made to arrange get-togethers and other social events. To house land girls, a hostel was built at the corner of Garen Street (next to the present-day health centre).

In 1945 the Galloway News reported on an event where Land Girls were presented with Service Awards.

They included these farms around Gatehouse

Janet Moffat

Mary Hunter

Jessie McGarva

Mary McLeod

Agnes Saville

Edith Thomson

Anne Lees

Boreland of Girthon Dairy

Boreland of Anwoth

Littleton Dairy

Skyreburn Mill

Laggan

Barlay

Lennox Plunton

4½ years

3 years

1 year

1 year

1 year

1 year

6 months

Mona McLeod came from Cambridgeshire and was about to go to university when war broke out. Her father told her to postpone her education and arranged for her to work at Littleton Farm, outside Gatehouse. After the war she continued her education.

Left : Mona aged 95.

This link leads to an interview with Mona describing her experiences.

http://www.bbc.co.uk/news/av/magazine-41310678/the-women-who-fed-the-uk-in-world-war-two
Women's Timber Corps
Originally part of the Woman's Land Army, the Woman's Timber Corps was set up in 1942 to help with the supply of pit props and telegraph poles which were urgently needed. Many of the male forestry workers had joined the army.

Girls over 17 could join although some as young as 14 were employed.

There were about 6,000 'Lumber Jills' as they were nicknamed. They were paid between 35/- and 46/- per week.

It was hard and arduous work and involved felling, shredding, operating sawmills and working with both horses and tractors.

Bark from alder trees was stripped from trunks on the Rusko Estate and then sent to ICI where is was used to make explosives.

The WTC was disbanded in August 1946.

Prisoners of War also helped with the forestry.

Leo McClymont remembers Italian prisoners cutting down wood on Gatehouse Hill - guarded by the man who delivered them in a lorry from their camp at Twynholm. He also remembers a man called Wright who worked in the forestry. He was a conscientious objector whose nickname was "La Te Doh" and he lodged with Miss Lunn at Ardmor.

Another forestry worker was Violetta Catignani, who came from Dunoon where her family owned an ice cream shop. She lodged with the Hannay family at the Forestry Holdings near Cally.

Sheila Scott from Wood of Cree was employed as a Lumber Jill in the Galloway Forest. Later in the war she worked at the sawmill at Minnigaff.
British POWs abroad
Prisoners of War - British men taken prisoner by the enemy while fighting overseas.
In June 1945, the Galloway News stated that there had been 73 men from the Stewartry of Kirkcudbright held prison in European POW camps.

38 men were in Japanese POW camps.

We do not know how many Gatehouse men are included in these numbers but here are a few:

Major Walter McCulloch, from Ardwall, was fighting in France at the beginning of the war when he was captured by the Germans. He spent most of the war in German POW camps. He was also the first Gatehouse man to return home in May 1945.

Private Colin Bennett also spent a lengthy time (5 years) in German POW camps and he too, was released in May 1945. Corporal Stanley McCutcheon, who had previously lived at Goatend, Gatehouse was also imprisoned in Germany for 5 years.


Colin Bennett

John McInally

After the Battle of Arnhem in September 1944, which was a German victory, Private John McInally KOSB (Airborne Division), was reported as wounded and missing. By November 1944 he was reported as a POW in German hands.

Also captured at Arnhem was Lieutenant Corporal W Shedden of K.O.S.B. Airborne Division. His mother Mrs R.J. Shedden lived in Neilson Square, Gatehouse. (Galloway News 08/07/1944)

In August 1944 Trooper James Carson, Recce Regiment, (Reconnaisance) Royal Armoured Corps was reported missing. In November the same year, the Galloway News reported that he was now a Prisoner of War in Germany. Prior to the war Jim, as he was known, lived with his sister and brother in law, Ina and Jasper Proudlock. He worked as a gardener at Cushat Wood and was 'called up' when he was 18.
By June 1945 all the British POWs in German camps were accounted for and most had returned home. A number of Gatehouse men were captured after the Fall of Singapore to the Japanese Imperial Army on February 15th 1942.
Pte Thomas Gemmell of Argyll & Sutherland Highlanders was a POW of the Japanese. His parents were Mr & Mrs Gemmell, Railway Cottages, Gatehouse Station. Their youngest son, Alfred Gemmell, was in the Royal Navy and was killed in 1942.
Tommy was posted missing in 1942 and was imprisoned for over 3 years in Malaya. He was one of the men who helped with construction of the notorious Burma to China railway, known as the 'Death Railway', and which was featured in the film' Bridge over the River Kwai'.
In September 1944 he was being transported from Thailand to Japan when his transport ship sank. It was not until March 1945 that his mother learned that he had been rescued and was in Fukuoba Camp in Japan.
The Galloway News 20th October 1945 announced that Tommy had been released from prison. He had been a prisoner for over 3 years.
In April 1942 Mr & Mrs J M Shaw, Ornockenoch, were informed that their son Gunner Robert Shaw, of the A.A. (anti-aircraft) was posted as missing in Singapore. He was originally a member of the Kirkcudbright Battery of the Royal Artillery.

In September 1945 the Shaws heard that Robert, known as Bobby, was safe. He had been taken prisoner in Malaya.

James McKenzie (Jim) , a fitter in the RAF, was also a prisoner in the Far East. He was involved in an escape attempt. During his re capture he sustained a severe head injury which caused him problems for the rest of his life.


James McKenzie
---
Foreign POWs around Gatehouse
The Galloway News reported in June 1945 that there were between 8 and 9 million displaced persons in Europe.
Some would have been driven out of their homeland and some had become prisoners of war.
A Prisoner of War is someone who has been involved in armed conflict who has been 'captured' by his enemy. POWs are held under the conditions of the Geneva Convention, which ensures that prisoners should be treated humanely. A large number of enemy forces who had been captured after battles in Europe were held in camps all over the UK and there were several around Galloway. The Isle House Stables Camp at Kirkcudbright held Italians as did a camp near Twynholm graveyard. The Kirkcudbright town council expressed concerns for the local female population with so many handsome young Italians around! Holm Park at Creebridge, Newton Stewart initially held Italians and later German Luftwaffe pilots. After the war it became a camp for displaced persons - people who could no longer return to their homeland which was now behind the Iron Curtain. It is now the site of a caravan park.
Some of the men were given work to do in gangs - for example in the forestry. Others were chosen to work as individuals on farms sometimes being billeted at their place of work. Herman Heil was an example of the latter. He first worked for the Finlay family at Ross, near Borgue, when he was in the POW camp near Twynholm, and then at Rainton Farm. After the war he remained friendly with the Finlay family and returned for visits to Rainton with his family for holidays.

When the war ended some of the POWs could not go back home. A number had been reluctant to fight at all and feared reprisals, others now found that their homes were behind the Iron Curtain. They chose to remain in Britain after the war ended.

Josef Salfenmoser was from a small German village near Munich and Nikolai Rotomir, from Sarajevo, Yugoslavia. Both men had been PoWs and remained in Gatehouse after the war ended.


Herman Heil
As well as working on farms and in the forestry, towards the end of the war POWs were used in road building and constructing the new council houses being built in most towns.
Josef Salfenmoser and Herman Heil both fought in the German Army.
Josef Salfenmoser chose to remain near Gatehouse after the war ended. He married Elspeth McMillan in 1949 and the couple raised a family in the area. Josef died in 2008.
Nikolai Ratomir was from Sarajevo, Yugoslavia. He had married Spasenija and had a son Milan before the war but, afterwards he became a 'displaced person' as his home was now behind the Iron Curtain. He worked for Andrew Graham the builder and latterly was a popular employee at the Cally Hotel. He died in 2010.
---
Internees
Internment was introduced when war started, to hold foreign nationals who were living in Britain, whose country of birth is an enemy state, and who therefore may be believed to pose a threat and have sympathies with the enemies' war objectives. This included over 70,00 Germans and Austrians.
10th June 1940 after Italy entered the war, Italian nationals were also included.
The internees were examined by internal tribunals and graded into 3 categories
A - Internment in a camp
B - Exempt from internment but with restrictions
C - Exempt from all restrictions.
Many German Jews who had fled the Nazis, like Wolfgang Schmidt (Antony Wolffe), found themselves in categories A and B.
There were a number of Internment Camps around the UK but most were on the Isle of Man. When space ran out internees were sent to other colonial countries like Canada, Australia and New Zealand. Transportation by boat was dangerous. On July 2nd 1940 the Arandora Star was torpedoed in the Atlantic with a great loss of life including, Italians, Germans, British soldiers and seamen. This helped to sway sympathy towards the enemy aliens. Many like Giulio Frullani and his brothers, who had lived in Scotland since the early 1900s, were released later that year.
| | |
| --- | --- |
| Giulio Frullani in 1918 | 1940 notice of release from internment |
The Frullani family had migrated to Scotland from Italy in the early 1900s. At first they worked as miners. One brother was a coal miner in Ayrshire while Guilio came to Gatehouse to work in the Castramont copper mine.
By 1914 Guilio, known locally as Johnny, had bought a shop and cafe in the High Street and was also selling ice cream from a cart.
When war broke out Guilio and 2 of his brothers (one from Wigtown and one from Dailly, Ayrshire) were all interned on the Isle of Man. They were all released in 1940.
---
Evacuees
When war began in September 1939, it was decided to evacuate vulnerable people from cities where there were major industrial sites that could be targets for bombing raids. Before the end of 1939 over 62 thousand had become evacuees in Scotland, most of which were schoolchildren. Gatehouse was a prime location to care for evacuee children, predominantly from Glasgow.
The Galloway News, in October 1944, reported that 1302 unaccompanied children had cpme from Glasgow to the Stewartry as well as 1643 from other cities. These evacuees included mothers with babies and also all the children from Hillhead High School.
There was no time for organised medical checks before the children left their homes and host families were shocked by the poor health of the children. One evacuee later confessed that the only gift she gave her kind host family was scabies.
Equally the evacuees found the countryside to be an alien environment. There were few entertainments and new strange discoveries e.g. milk came from cows not from a bottle!
Children were usually transported to their evacuation locations by train, most of those destined for Gatehouse arrived at Dromore or Kirkcudbright, with onward journeys by bus into the town. They were taken to a reception centre at the Rutherford Hall where they were distributed at random to host families, with an attempt to keep brothers and sisters together. The WRVS and the churches played a big part in organising this process.
Nessie Alexander and her brothers Alex and James, arrived at Gatehouse on 4th September 1939. She recalled that she and her 2 brothers were the last to be chosen from the reception centre. Rev. Easton, Minister of Girthon Church, a single man, took pity on the family and they were billeted at Girthon Manse (then at Disdow road-end) for six weeks and looked after by Mr Easton's housekeeper.
Little attempt was made to billet children with families of the same religion although a Jewish boarding school was opened at Ernespie House in Castle Douglas.
Some larger houses were used for groups of children.
Cally House, 1 mile from the centre of Gatehouse, was rented by Glasgow Education Authority as a temporary boarding school for Glasgow evacuees, providing accommodation and teaching for about two hundred 12 to 17 year-olds at a time. Pupils joined in activities with the local scouts and guides and some older boys and 2 teachers joined the local Home Guard.
Football matches took place and the Cally School held concerts for local war funds.
The teachers at Cally, and other evacuated schools, were expected to move with their pupils regardless of their other family commitments. Miss Marlin and Miss McHaffie came from Glasgow and taught at Gatehouse School.
Click to see more details of pupils, photos and other information about Cally House School.
Rusko House, 2 miles outside Gatehouse was owned by the Cochrane family. About 16 children were billeted there and were looked after by Misses Molly and Evelyn Cochrane and staff. After Rev. Easton joined the forces as a chaplain in late 1939, the Alexander family joined the evacuees at Rusko House. Cecilia Cochrane has written a story about her experiences with the evacuees.
| | | |
| --- | --- | --- |
| Rusko House | Commander Cochrane | Mrs Beryl Cochrane |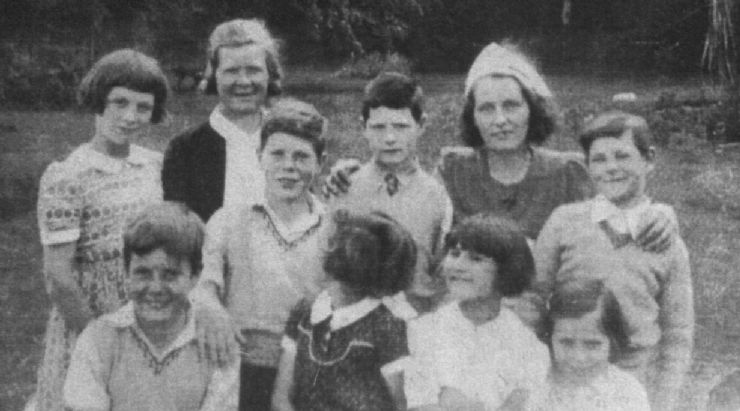 Back: May Munro, Aunt Mary Munro, John Munro, Jessie the maid and James Lindsay
Front: James & Alex Alexander, Cathie and Annie Munro & Nessie Alexander
Host families were paid a standard allowance of 8/6 per week per child if they took 2 or more evacuees. A family providing 'lodgings only' for a mother and children were paid 5/- per week.

The threat to Glasgow docks did not materialise for some time and many mothers and children returned home in 1940. When Glasgow, and Clydebank in particular, was badly bombed in March and May 1941 a new, smaller scale evacuation took place.

Apart from health problems, many of the evacuees experienced problems of separation from their families Some mothers chose to stay nearby but many returned to the city and only visited their children occasionally when a bus trip could be arranged.

There were also some complaints about the poor behaviour of evacuees. In some areas special provision was made for badly behaved children.

Some of the children like Nessie Alexander enjoyed their experiences in Gatehouse. She had arrived at Rusko as a seven year old and left 4 years later in January 1943. They loved the freedom of the countryside and the companionship of their fellow evacuees. Some like Marion Connell retained a lifelong friendship with their host families.

It is unclear how many evacuees came to Gatehouse but it had an impact on the number of pupils attending Gatehouse School and the Education Authority had to rent the Rutherford Hall and Town Hall to be used as extra classrooms, dining room and gym hall.
The evacuation scheme was suspended in September 1944 although it took some time for all the children to be returned to their homes. Here is a list of those evacuees who are known to have stayed in Gatehouse that we know about (excluding those at Rusko House and Cally House School).
Other Evacuees

Augustina and Antonio (Tony) Perez came to Gatehouse during the Spanish Civil War (1936 to 1939), probably after the bombing of the Basque town of Guernica in 1937. This war overlapped with World War II so the Perez children remained in Gatehouse until after 1945. Augustina then left Gatehouse but Tony remained until the 1950s.

At least one family purchased a house in Gatehouse during the war years to escape the worst of the bombings.

Tom and Elma Gibson purchased Woodlyn in Castramont Road in 1939. Tom worked for the British Iron & Steel Corporation in London, where their son Ninian was born in 1933. Mrs Gibson, young Ninian, and a baby daughter Isobel Mary spent most of the war years in Gatehouse. Ninian attended Gatehouse School and unusually, he always wore a kilt. (His parents were staunch Scottish Nationalists.)

Tony Perez
Some evacuees came from much further away.
The Wright family lived at the Sheiling at Skyreburn during the war years. Douglas, Keith and Peter all attended Skyreburn School at different times between 1943 and 1945. Douglas went to Kirkcudbright Academy between 1945 & 1946.
Their father, Henson Wright, was a tea planter in Assam, India. Mother Helen, whose parents lived in Kirkcudbright, made a very long and hazardous journey to Britain with her children in 1942. The family returned to live in India in 1946, after the war
---

Life in Gatehouse
Air Raids
Fortunately Gatehouse was not subjected to air raids, but many enemy planes did pass over South-West Scotland. In 1940 several bombs were dropped into fields nearby, probably in an attempt to lose weight before returning to Germany after raids on Glasgow. Propaganda leaflets were also dropped.

Juliano Frullani remembers hearing the muffled drones of low flying aircraft at night and thinking that ''they seemed to scrape their bellies on our chimney tops''.

The Galloway News published a series of cards so people could identify enemy aircraft
The picture (right) is the 3rd of 4 cards which shows various viewpoints of a Junkers
JU 90 which has a wingspan of 115 ft and length of 86 ft., four engines, low wing, two
rudders, tapered wings, square-cut wingtips and tailplane.


In Castle Douglas there was a Royal Observer Corps who were trained to spot enemy aircraft.
Gas
There was a very real fear that the Germans would drop poisonous gas bombs. Every British citizen was issued with a gas mask, to be carried at all times.
Leo McClymont remembers taking his mask to school each day. If anyone forgot their mask, they were sent back home to get it.

The masks were horrible to wear and had a nasty smell but children enjoyed making rude noises through the tubing.

The school held regular fire and bomb attack drills. Leo remembers being taking up the road towards Gatehouse Station and having to dive behind hedges or into ditches when 'an attack' happened.
Blackout
As early as July 1939 the Government were warning of a need to prepare for a blackout as they feared an air attack by Germany.

The blackout came into force on 1st September 1939, before war was declared.

The blackout involved covering all windows and doors with thick material or cardboard to block ANY light escaping.

It was enforced by the ARP (Air Raid Precaution) officer and heavy fines were inflicted on those who did not comply.

Street lights were switched off or dimmed, and car headlights had special covers.

Commander Cochrane from Rusko House was a local ARP officer.
Walking around at night was difficult and sometimes dangerous. People were advised to wear something light to make themselves more noticeable. A suggestion was that men left their white shirt tails hanging out!
Many people were killed or injured in road traffic accidents or by bumping into or falling over objects such as into docks or rivers. Robert Halliday of Gatehouse was killed in 1940 in one such accident.


A system was put in place to warn people of imminent bombing attacks.

Fortunately, in Gatehouse, it was never used in earnest, but the siren was tested every week in Gatehouse until at least the 1950s
Fire
Incendiary bombs and fire were a real concern and there was much discussion at the Town Council about the response to a large fire. Eventually a new fire tender was supplied and housed in a building in Victoria Street.
The firemen in Gatehouse were (and still are) volunteers.
Sir Philip Macdonell, a retired judge who lived at Woodlyn, Dromore Road was the local convener with regard to Fire Brigade matters. He represented the Gatehouse Town Council at various conferences and committees around Galloway.
There were also appeals to householders to clear their attics of rubbish to decrease the fire risk.
Identity Cards
Everyone had to be issued with an ID card, primarily to control the use of ration books.

At the beginning of the war all ID cards were brown, but in 1943 adults were issued with blue ones.

These were very important documents– no ID card meant no food and clothing rations. They were issued together with a holder to protect them.

Each person had to register at a shop of choice and the ration books were stamped as they were used.
Rationing - Food
Food supply was a huge concern during the war, Britain was not self sufficient in food, and other goods.
The Ministry of Food was set up to control the regulation of food production and fair distribution.
Some groups such as the armed forces and land girls were allowed extra rations.
For example:
1940 saw the rationing of various foods such as butter, bacon, meat, sugar and tea.
1941 cheese and eggs added.
1942 tinned vegetables, rice, biscuits and sweets (2oz (55g) per person per week!).
1943 sausages.
Isolated places such as Gatehouse were much better off than the cities.
| | | |
| --- | --- | --- |
| | The Cally House School grew vegetables and other food that they needed. | |
The campaign "Dig on for Victory" encouraged people to be as self-sufficient as possible.
Rusko House resident Cecilia Cochrane commented: "In a lot of ways we hardly knew there was a war on. The garden produced excellent fresh fruit and vegetables. The river was filled with salmon and trout; the estate was home to all varieties of game. The farm provided us with fresh milk, butter, cream and eggs. My father cherished several hives of ...Italian bees". from Little Bits by Cecilia Cochrane.
When fruit was being picked the WRI could arrange for extra sugar rations to make jam - a good way of preserving fruit. Children were encouraged to help - lifting new potatoes, and collecting brambles and rosehips.
Rationing - Clothing
Many materials for clothing such as cotton and wool were imported. During the war years up to a quarter of the population were entitled to wear a uniform, the production of which, led to a great strain on the clothing industry.
Rationing was introduced to allow for fair distribution of the meagre resources.
Items of clothing were allotted points based on the amount of material and labour needed to produce it. So as well as paying for the cost of the item 'points' were deducted from a ration book.
e.g. a dress = 11 points; mens' trousers = 8 points
Mothers with babies and growing children had extra rations.
A 'make do and mend' campaign encouraged re using clothes.

Exchange of unwanted clothing was encouraged and organised by the Women's Royal Voluntary Service.

Fashions changed and many women, like Margaret Sproat (right), cook at Cally House School, wore trousers for the first time. They were more practical for night time air raids and took fewer rationing points than a skirt.

Siren suits were easy to put on when you needed to get to an air raid shelter quickly.

Dr Kennedy McCreath was G.P. in Gatehouse from 1969 to 1981. He did not train as a doctor until after the war.

He served with the 1st Armoured Division of R.A.S.C. and was at the Dunkirk evacuation.

He married Peggy on 24th September 1940 in Glasgow. The back of his wedding photos states: 'should have been married on 11th September, leave cancelled 10th September, - wedding off.'


Siren Suit
Weddings, of which there were many during the war years, were a problem for brides, many of whom were married in a suit or day dress. Others borrowed or were given extra coupons by friends to buy a new wedding dress. Others used a second hand dress. Some had innovative ideas such as using parachute silk for a dress. The groom was often in uniform.
Salvage Collections
Salvage collection was another way to make the best use of available resources.

Adverts were placed in the local newspapers for the collection of paper, metals and bones.

Quantities collected in each town were published in the Galloway News. Gatehouse always seemed to do well.

The Scouts helped with the paper collection which was stored in an old unoccupied house ready for collection - 43 Catherine Street.

Books and magazines were also collected - later in the war some were used to replace destroyed library stocks and others sent out to the troops.

Metal was also collected and some buildings had their railings removed. The Town Council considered donating metal parts from the old swing bridge over the canal beside Cardoness Castle.

Metal was stored in a council building at 9 Digby Street (now flats).
Getting About
Petrol was rationed from the beginning of war, so travel was difficult. Trains still arrived at Gatehouse Station and were met by a bus for transport into town.
Bicycles were a favourite form of transport for shorter distances. Bikes had to have lights in the blackout and there are numerous examples of people being fined for 'no rear lights' during the war years.
Jim Grieve remembers being stopped by the policeman for such an offence.
One night after a game of football at Cardoness with a pal, they were cycling back home when they passed the local policemen. The policeman called 'OK boys where are your lights?' The boys took fright, pulled their caps over their faces and sped away. The following day they were eating their 'piece' in Killiegowan Woods when the policeman arrived, chatted casually to them then said 'By the way you will be hearing about appearing in court in Creetown for riding a bike without lights'.
In due course the letter arrived and Jim and his friend went off to Creetown, Jim with 10 shillings from his mother for the fine. As they arrived they met some other young men who had just been fined 25 shillings for the same offence. But it was Jim's lucky day. A court official asked him his age. When he discovered that he was only 15, and hence only a juvenile, he was let off with a caution.
War Funding
Fighting a war is an expensive business. People were encouraged to save.

The Galloway News had many adverts for savings schemes.

There were numerous whist drives, dances and bring-and-buy sales with proceeds going to various war charities like the Red Cross.

Some ladies collected bunches of wild flowers such as snowdrops, primroses and violets to be sold in the cities to raise funds. In Gatehouse this was organised by Norah Henderson.
Women in the town knitted socks, scarves, hats and gloves to be distributed among the armed forces known as The Comfort Fund.

Women held whist drives to raise money for wool.

Many disliked knitting jumpers for the Navy because the wool was waterproofed with oil and was difficult to knit with.

In 1943 one lady in Gatehouse knitted 104 pairs of socks and 30 jerseys to be sent to the Forces.

There were also various special schemes to raise money to provide kit for a plane or a ship which was often named after the town or area from where the funds came.

There was a nationwide scheme to raise money by inviting ladies called Katherine or variations of the name to donate to the "Kat's Spitfire Fund". In 1941 Mrs Katherine McCulloch, of Ardwall contributed £300 to the fund.
News and Letters
Servicemen who went to the Far East were away from home for long periods and communication with their familiies back in Gatehouse was very important. Here is a small sample of the letters and postcards that were written.
British Double Summer time (BDST)

In the Autumn of 1940 the clocks were not 'put back' an hour as was the usual practice, so British time remained at Greenwich Mean Time +1 hour (GMT +1)

In Spring 1941 the clocks were 'put forward' 1 hour as usual, so now British time was GMT +2. (British Double Summer Time)

This put Britain on the same time zone as northern Europe, and it remained in place until the end of summer 1947.

There were several reasons behind 'double summertime'

more daylight hours for working, particularly on farms.
reduction in the use of energy - particularly lighting and heating in the winter months.
to help people get home from work safely in the daylight - before blackout restrictions.

This was not universally popular, particularly in Scotland, where in winter it was dark until well into the morning. Many children had to travel to school in the dark.
The Blitz
This term was used by the British press to describe the sustained German bombing campaign against British cities such as Glasgow, Liverpool and London between September 1940 and May 1941.
A number of Gatehouse folk experienced these events.
Archie MacInnes left Gatehouse in 1937 to train as an engineer at Scotts Shipbuilding and Engineering Company at Greenock on the River Clyde. At the outbreak of war he applied to join the REME (Royal Electrical and Mechanical Engineers) but this was turned down because building ships was more important and he was employed building cruisers, destroyers and submarines for the Royal Navy.

Scotts shipyard did receive a direct hit in May 1941 when the main office and drawing office were destroyed.

Archie was a member of the Greenock Home Guard and was a member of the anti aircraft battery doing many night duties.

For more info about Archie see 'Kenspeckle Folk'
Arthur Hunter, joiner, was posted to Liverpool to work refitting troop ships. He was engaged to Nancy Wyse from Glasgow but was not allowed leave to go back to Scotland for his wedding. Instead, Nancy, her father Angus and sister Meg travelled to Liverpool for a small wedding on 26th August 1940.
While the couple were on a short honeymoon, the bombing raids on Liverpool started. The couple lived in Bootle, very close to the docks - a target for the German bombers. Luckily their house survived but the chemist shop where they had taken their wedding photos to be developed was hit and all their wedding photos were lost.
Between August and Christmas 1940, Liverpool was attacked by bombers on average once every other night. It was the most bombed city outside London. Nancy and Arthur took their turns as Fire Watchers. They were equipped with a whistle, a bucket of sand and a stirrup pump. They were tasked with watching for and putting out the fires created from small incendiary bombs which fell in large numbers.
Local girl Rita McMurray met Rev Arthur Holmes while working in the Western Isles. Arthur was an Episcopal minister covering a huge area and used a small plane to travel between the islands - hence his nickname 'the Flying Vicar'. Rita and Arthur married in Gatehouse in 1938.

In September 1940 when they were based in London, their church was completely destroyed.

After this Arthur became chaplain for the Royal Navy Voluntary Reserve and served in the Far East.

Rita who was pregnant, was evacuated to Oxfordshire and then the Isle of Man, where her daughter Mary was born.
---
Aircraft Crashes on Cairnsmore
Near the summit of Cairnsmore of Fleet is a memorial stone to those who lost their lives as a result of aircraft crashing into the hill. 7 of the 8 crashes took place during wartime. The stone was lifted into place by a helicopter on 8th August 1980, the 40th anniversary of the first crash.
Here is a summary of the 8 crashes.
The third crash in the above table is noteworthy as there was a survivor. 11-year-old twins Robin and Billy Johnstone from Cullendoch Farm raised the alarm. By the time local doctor Alexander Craig arrived from his house at Roseville in Ann Street, he was very doubtful that Wireless Operator Ted Hurst would survive his injuries, but he did, and he later returned to Gatehouse to thank both the doctor and the Johnstone family for their help.
| | | |
| --- | --- | --- |
| Ted Hirst | Dr. Alexander Craig | Twins Billy and Robin Johnstone |
There was also a crash near Loch Skerrow in 1944 and one or two in the Fleet estuary.
Jack Henderson, gamekeeper on the Cally Estate was a member of the Royal Observer Corps. and on numerous occasions acted as guide to the RAF rescue team from Stranraer when there was a plane lost in the Fleet Valley or Cairnsmore area.
---
End of War
Victory in Europe (VE day)
On Monday 7th May 1945 an announcement was made that the war in Europe had ended.
Tuesday 8th May was to be a day of celebrations - Victory in Europe Day.

There had been a feeling for some time that peace was imminent, so preparations had been made to hold a celebration at short notice. There was time to decorate the buildings with flags and illuminated 'V' for Victory signs.

The Gatehouse Town Council had already discussed, in April, how to greet the returning Prisoners of War.

In May, Major Walter McCulloch of Ardwall was the first Gatehouse man to be released. He had spent most of the war in a German Prisoner of War Camp.

The Town Council flew the burgh flag from the Clock Tower in his honour ...and decided to do the same for all other returning POWs.

The morning of Tuesday May 8th 1945, was wet so some of the sporting events for children were held over until Wednesday but other events, such as a parade took place.
The church services at Girthon and Anwoth were very well attended.
The dancing in the Town Hall at night was very popular and the bonfire on Vinnie Hill was enjoyed by young and old.
But for many it was a time of reflection - to remember those who had died - and the knowledge that the war was still not over in the Far East. Some Gatehouse men were still fighting in Asia or were Prisoners of War.
Victory in Japan (VJ day)
On 15th August 1945 U.S. President Harry S. Truman announced that the Japanese Government had agreed to comply with the Potsdam Declaration which demanded unconditional surrender of Japan. This date is celebrated as V J Day in Europe. The surrender document was not signed until 2nd September 1945, so this date is VJ Day in USA.
A 2-day holiday was declared in Britain to celebrate the end of hostilities.
Frullani's cafe.

On Wednesday 15th August the buildings in Gatehouse were decorated with flags and bunting and the church bells rung to celebrate the end of the war. Services were held in both Anwoth and Girthon Churches.

In the evening a dance was held in the Town Hall and Mrs Murray Usher lit a bonfire on Vinnie Hill while 'thunder flashes' and ground flares were lit in the High Street.

The following day Giulio (aka William) Frullani provided free ice cream to children of the town.


William Frullani
A parade was arranged between the Town Hall and Riverside Park (behind the current fire station). This was led by the Balmaghie Pipe Band and on arrival at Riverside Park there were sports, dancing and refreshments. Another dance was held in the Town Hall and the Town Council provided a fireworks display.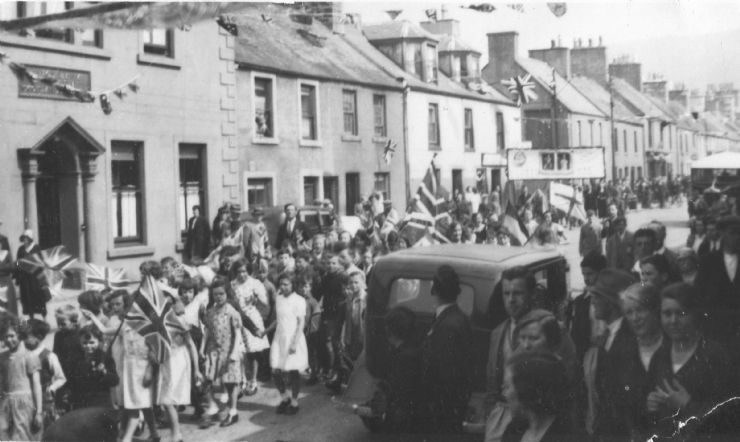 ---
Welcome Home
As with any war, it takes many months for the armed forces to be demobilised, prisoners of war to be released, and displaced people to find their way back to their homes.
Although the war ended in August 1945, it was not until September 1946 that a Welcome Home event was held.
As early as February 1945, a Welcome Home Committee was formed in Gatehouse, with the aim of 'how best the community could be of service to the ex-service personnel after demobilisation.'
The committee consisted of the Provost (Mr A A Stewart) and Mrs Elizabeth Murray Usher, representing the Town Council with representatives from British Legion, the churches, WRI, WVS, St Stephen's Lodge (Masons) and clubs such as the golf and bowling clubs.
The committee laid out various aims:
to fund a premise where ex servicemen could meet
a memorial to the fallen - probably a memorial garden (this never happened)
make it possible for relatives of ex servicemen to apply, on their behalf, for one of the new council houses being built in the town (68 new homes were built in Gatehouse at this time)
a civil reception
a commemorative fund - for British Legion to administer
a welcome home fund for returning servicemen. Each ex serviceman was to receive a gift or memento.
support for the Thistle Foundation. This organisation was set up in 1944 to provide homes for disabled ex servicemen
A target of £2000 was suggested with a further target of £400 for the Thistle Foundation.

The British Legion decided to continue fund raising themselves as they had been collecting donations for some time and their main aim was to have a clubroom. They later gave each member a cheque for £5 but sadly no club room ever materialised.

Dances, collections, concerts and other events were held to raise money and £800 had already been raised by October 1945.

The largest fund raiser was the Great Free Gift Sale that was held on 20th October 1945 in Campbell's Garage, Fleet Street (now Fleet Valley Nursing Home), which was organised by Mrs Murray Usher. The gifts included all kinds of livestock, furniture and antiques, toys, jewellery, paintings, potatoes, plants and even 10cwt turnip manure! Teas served in the old Womens Land Army Hut, were provided by the Womens Voluntary Service and various local WRIs. The event was opened by the Earl of Galloway who had been the 1st Commanding Officer of the 7th KOSB, with whom many local men had served.

The catalogue lists a great many donors who lived in Gatehouse. Click on the catalogue.

[Jan 2022 addition] We have recently seen a copy of the above catalogue where prices realised have been handwritten alongside many of the lots.

The cash donations amounted to over £166 (click to see the breakdown)

Total proceeds came to over £1700 (click to see breakdown of items sold).
The official Welcome Home event took place on 27th September 1946.
There was a Thanksgiving event in the Rutherford Hall where, after several speeches, prayers and a eulogy to those who had fallen, Mrs Murray Usher presented eligible ex servicemen with a cheque for 10 guineas and a scroll thanking them for their service. 100 of the 194 eligible ex service personnel were present.
A special cheer was given to Major WMW Cliff-McCulloch of Kirkclaugh who attended the event in his wheelchair.

Click on the icon to download a copy of the Welcome Home Programme

Click on the icon to download a copy of the Commemorative Scroll given to all service personnel
Click here to download newspaper reports about the Homecoming celebrations.
Later the event moved to a beautifully decorated Town Hall, where Mrs Murchie and her staff from the Murray Arms Hotel provided a dinner, which was followed by various toasts and musical entertainment.
---
Personal Stories
Click on a name below to see that person's story
(later Agnes Corewyn) - evacuee

(later Kathy Patterson) - evacuee

grew up with evacuees at
Rusko

Lieut. Seaforth Highlanders


staff sergeant ??

bomber pilot, RAF

Sergeant Special Boat Service

Private 5th K.O.S.B.

Petty Officer, Royal Navy

Amphibious Mechanic, RASC

(later STEEL) - Ensign, FANY

Sergeant, Royal Artillery

(later McCONCHIE) - Cally School

Seaman, gunner


refugee & internee

---
Wartime Photo Gallery
| | | |
| --- | --- | --- |
| 1940 Jack Veitch | James Girgan with son Jim | 1943 Alex & Maud McGuffie |
| | | |
| --- | --- | --- |
| 1944 Jessie Sproat & Knightly Bowater | Effie MacInnes | Jim Hope |
| | | |
| --- | --- | --- |
| Stewart Broadfoot | Grace Broadfoot | Marjory Shaw |
| | | |
| --- | --- | --- |
| Thomas Shaw | Norah Shaw | Will Crosbie |
| | | |
| --- | --- | --- |
| Willie Hay | Archie Pickthall | |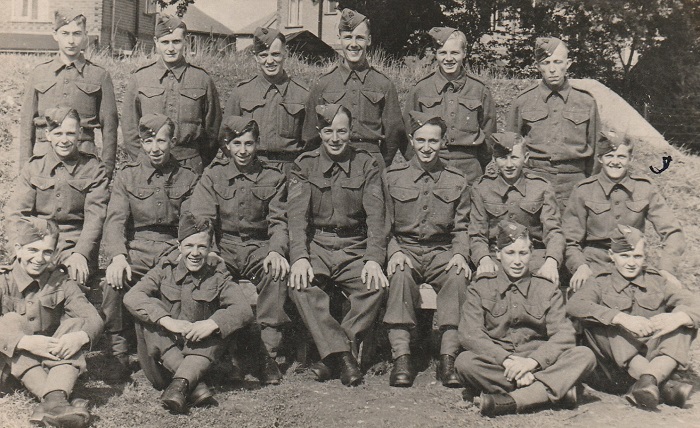 We believe this is photo of local lads "joining up" towards the end of the war. We know that the soldier in the middle row far right is Alexander Craig Shaw (known as Craig). Can anyone name other soldiers ?


---
We would like to say a very big thank you to all who provided us with information and photographs in order to put together the above presentation.
Margaret & Graham Wright
---